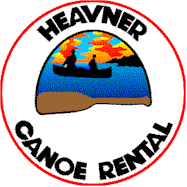 HEAVNER CANOE & KAYAK RENTAL
Wilderness Canoeing &
Kayaking close to home
2775 Garden Road – Milford, Michigan 48381
Phone: (248) 685-2379 Fax: (248) 684-7939
Email: AlanHeavner@heavnercanoe.com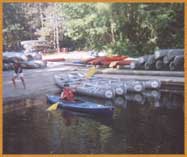 Check out our Living Social club! Sign up here.

~~~~~~~~~~~~~~~~~~~~~~~~~~~~~~~~~~~~~~
What is it?
Paddle to the Symphony is a Celebration of Southeast Michigan outdoor groups and a Reunion for Hostelling International members – the founders of the event. This annual tradition is open to HI-USA members (current and former), SOLAR members and any group, club or individual.
This year's Paddle to the Symphony will be Friday, June 21, 2013. SOLAR is collaborating with Heavner Canoe to provide a fun evening on the water while enjoying the sounds of the Michigan Philharmonic. Meet at Kensington Metro Park in Milford, Michigan at the North Martindale Picnic Shelter.
Do NOT follow the signs to the concert, as we are positioned across the lake. Instead, follow the signs to "Martindale Beach," park and walk to shelter "S." Anyone going on the water should arrive by 6:30 p.m.
How Much does it cost?
Paddle with Box Lunch: Best Option with everything you need. One seat in a canoe (some kayaks will be available). Includes a box lunch with sandwich, two sides, bag of chips, cookie, pickle spear, drink and the all the extras. Eat before you paddle or take with you in the canoe. Canoeists will paddle across the 1/4 mile span to the amphitheater to the opposing shore. Canoeists will return as the sun goes down and the music keeps you going.
Paddle and Box Lunch: $35.00 per person.
Paddle Only (no food): One seat in a canoe (some kayaks will be available). You may bring your own food. Price is $25.00 per person.
Food Only (no paddle): Bring your own kayak or canoe. Price is $15.00 per person.
Event Only (no paddle or food provided): Bring your own canoe or kayak and bring your own food. Alternatively, enjoy the evening without going on the lake or having dinner. Guests may hear the music from shore. Price is $5.00 per person.
Water and soft drinks will be available for everyone with any option you select. All canoes and kayaks MUST have at least one adult per watercraft.
Please Note: With any option you choose, you will still be responsible for the park vehicle entrance fee of $5.00, so carpool if you can.
When is it?
Friday, June 21, 2013
Continue Reading…
~~~~~~~~~~~~~~~~~~~~~~~~~~~~~~~~~~~~~~
Is the price of gas making you blue?
You don't have to drive far to have fun!
Experience wilderness canoeing close to home!
Come and canoe or kayak the beautiful Huron River with us.  Located less than an hour's drive from Detroit in Southeastern Michigan, the scenic Huron River offers paddlers a chance to view nature at its best.  The gentle current of the river allows beginners and experts alike the opportunity to enjoy its sights.
We have been a family-owned and operated business for over 50 years, with over 200 canoes and kayaks available for sale or rent.  For years we've been the popular choice for church, school, and community and scouting organizations.  Our ACA and American Red Cross certified instructors are available to turn and ordinary outing into an educational and rewarding adventure!  With our location within State Recreation Areas we're able to provide access to both modern and rustic campground facilities.  Consider a multi-day program that combines instruction, a river trip and overnight camping!
We invite you to explore our website and learn more about our services, and how we might help you enjoy a wonderful day on the river!
We are a family-owned, family friendly business!


Dogs are welcome too!
Please observe state park law and keep your dog on
a 6 ft leash and observe all other polite doggie etiquette!  :)
We are a family business and we understand these are difficult financial times.  Our rental prices are still the same as they were in 2007!  We hope this will help your family enjoy time together on the beautiful Huron River.  Save on gas!  Enjoy wilderness canoeing close to home!
~~~~~~~~~~~~~~~~~~~~~~~~~~~~~~~~~~~~~~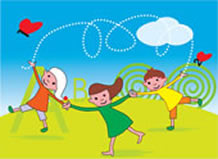 We believe in "NO CHILD LEFT INSIDE!"
(of any age)
Check out our new educational program:
Heavner Nature Connection
For more information, call Alan at 248.561.8274
Visit the state website for more
about how the state of Michigan is celebrating
"No Child Left Inside"
~~~~~~~~~~~~~~~~~~~~~~~~~~~~~~~~~~~~~~
**Ask about our educational package including
a naturalist-guided canoe and hiking trip.
**Ask about our canoe outings,
including use of the newly opened River Hawk Lodge.
Overnight facilities and day use buildings also available.
~~~~~~~~~~~~~~~~~~~~~~~~~~~~~~~~~~~~~~
Did you know?

We have a

Repeater's Club!


5 Rentals , get the 6th 1/2 price.
Or 9 Rentals and the 10th rental is free.

We offer a 

Senior Discount

for our customers
who have reached the young age of 60!

We offer a 

Hometown Hero Discount


for our Fire fighters, Police and Military, with ID!
(see details below)

And ask about our

Birthday Club

!

Honoring our Hometown Heroes
We at Heavner Canoe Rental would like to
recognize and honor the men and women
who help keep our country safe.
Thank you to our military, EMS,
fire fighters and police!
We invite you to stop by and take advantage
of our 50% discount we offer (with valid ID)
as our thank you for all you do.
Thank you to our Heroes!
(Visit our Hometown Heroes page for more information)